How to tell someone they smell
How to tell someone they smell is probably the job dreaded most by managers, even more so than telling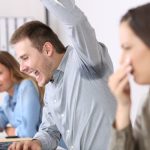 people that they are redundant. Body odour or bad breath is a sensitive subject, challenging to address. It's just as challenging for those individuals that have to work with the employee who smells.
A survey by the Australian Recruitment Employment Office found that 75% of people find it difficult to work alongside someone with bad body odour, and 64% struggle to work with someone with bad breath. Remember you do need to be sensitive to the different cooking and eating traditions of different cultures which can affect body odour and the impact of fasting which can cause bad breath.
An employer telling someone they smell is far less likely to back fire than leaving it to work colleagues who may be less tactful about how they deliver the message. For example, the man who took his colleague into a side room and told him that there were two people in the room, one smelled and it "isn't me"! Or there were the colleagues who filled an employee's locker with bottles of anti-perspirant. This approach can easily escalate into allegations of bullying.
Our checklist for telling someone they smell
Talk to the employee in private.
Start with a soft approach. Don't say that people are talking about the smell or that people are complaining. Own the problem yourself. Say that you've noticed the problem.
Tell the employee what the problem is as you see it.
Try to attach the problem to a business issue eg the impact on customers or colleagues.
Ask the employee if they have any medical problem that you need to be aware of. There are medical conditions which can affect how much a person sweats (hyperhidrosis) and what their sweat smells like (Fish Odour Syndrome).
Ask the employee if there is anything in their personal life which could be causing the problem. Finding out an employee has lost their home or is living somewhere with no washing facilities is likely to have a different reaction from most employers than someone just not bothering to shower.
Set out your expectations for improvement. Set a date when you'll meet again to review the situation.
Ask if there's anything you can do to help the employee achieve the improvements.
Reassure the employee that this informal conversation with them will remain a private matter between the two of you.
Make a diary note of the conversation.
Monitor the situation discreetly and hold your review meeting.
Hopefully the situation will improve. If it doesn't you have an obligation to your other employees to progress the matter formally.
Read our associated blogs


Metis HR is a professional HR Consultancy based in the North West of England supporting clients across the country. We specialise in providing outsourced HR services to small and medium-sized businesses. Call us now on 01706 565 332 or email us to discuss how we may help you.