Employees sometimes have the statutory right to be accompanied to meetings, but who can support employers in meetings with employees? We can!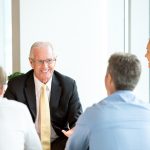 If you are new to managing people, some of the more conflicting meetings such as disciplinary and performance management can be a little daunting. This can be especially so if you know  you have to have a difficult conversation with the employee concerned. New employers often wonder what they can and can't say in these situations. They feel like they want professional support to help them get it right, to avoid making the situation worse by saying something that they shouldn't say.
The call to us asking "Who can support employers in meetings with employees?" is quite common. It's not a failing to ask for professional help. We certainly won't judge you for asking for help. It's our job to help. It's far easier to advise somebody before the event rather than trying to dig them out of a hole after things have gone wrong!
New and Experienced Employers Need Support From Time to Time
However, it isn't just new employers who ask "Who can support employers in meetings with employees?" Employers with experience in dealing with difficult situations can still feel apprehensive in certain situations, and may want help and support too.
We recently attended a meeting to provide HR advice and take notes with an employer. She was meeting with two employees to tell them about changing their work pattern. The employer was worried about how she would deal with two employees. Over time, these employees had proven to be very vocal. They were very quick to start shouting about their rights and becoming highly emotional.
After a telephone consultation to discuss strategy with the client, we arrived early on the day. A startegy meeting took place to check the employer was clear about what was going to be said. We clarified our role in the meeting. It is an odd fact that in many cases where we think a situation is going to get heated, the presence of a professional third party can help keep emotions in check. Although the messages were difficult to hear for the two employees they were delivered in full. The company gave options available to the employees.
The employer was pleased that the employees had not stormed out of the meeting, which had become their usual behaviour when confronted. During the meeting debrief with the employer, we agreed a timescale for the return of the meeting notes. The employer considered a drafted letter of outcome. Therefore, it seemed to us like a win win solution. The employees got to hear the whole message and the options available to them. The employer was able to deliver give all the information without an overly aggressive meeting. This left her in a fit state to go out to a pre-planned family meal that evening without a weight on her shoulders.
What to do.
So, if you'd feel more in control if you had some support give us a call on 01706 565332. "Who can support employers in meetings with employees?" Metis HR can!
Metis HR is a professional HR Consultancy based in the North West of England supporting clients across the country. We specialise in providing outsourced HR services to small and medium-sized businesses. Call us now on 01706 565332 or email us to discuss how we may help you.