Can I change an employee's pay day?
Most companies have set dates for payment of salaries and wages. Sometimes things change within a business to make you ask 'can I change an employee's pay day?'.
Pay days are included in an employee's contract at the start of their employment. So, changing the pay day becomes an issue, if making changes to an employee's contractual terms and conditions. This means that when you are considering that thorny question 'can I change an employee's pay day?'. Any failure to approach this without getting an employee's agreement can lead to claims for breach of contract or constructive dismissal . Where the employee resigns because of the change.
The best defence is to not do anything until you have the agreement of the affected employees.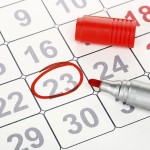 You need to start by explaining to your employees why you need to change their pay day. And how you propose to make the changes. There are a number of things that you need to consider in  your planning, which may initially cause your employees to resist. If you are moving from paying weekly to paying monthly, that's a big change to the personal finances. Therefore, those affected may have to wait four weeks without any pay. If you are changing the date in the month you pay, you need to consider that people have their standing orders for things like mortgages or rent. These are set up as regular bills that may go before instead of after their pay has gone into their bank. Changes to their pay day may mean that you have to give them time to make any changes needed at the bank.
Changing the pay day is much more common when there is a TUPE transfer. Where 'can I change an employee's pay day? is often more about harmonising the payroll run to save costs. So that it is only run once a week or once per month rather than twice to accommodate two lots of staff. Great care needs to be taken if you are making changes as a result of TUPE. The new employees' existing terms and conditions, including the date of payment of wages, will transfer to your business. And they are protected from being changed simply to fit in with the existing staff. Changes need to be managed appropriately to avoid you making yourself vulnerable to challenge.
How do I go about changing an employee's pay day?
Tell them why you need to do this and when you were thinking of doing it.
Talk to them about how you can support them during the change. For example, offering a prepayment on pay which can then be paid back over a defined period of time.
Confirm what you agree with your employees in writing.
Write to the employees varying their contract to identify the changes. Get the employee to sign and return an acceptance slip.
If "Can I change and employee's pay day?" is a thorny question for you, give us a call now on 01706 565332. We can help you think through the best way forward.
Metis HR is a professional HR Consultancy based in the North West of England supporting clients across the country. We specialise in providing outsourced HR services to small and medium-sized businesses. Call us now on 01706 565332 to discuss how we may help you.