This week, 3-9 September 2017,  is Migraine Awareness Week. It made us reflect on a call from an employer we had recently helped with a female employee. She was absent from work because of a migraine for the third time in a month. His reaction of "it's only a headache" made us reflect on migraines and the reality for some people.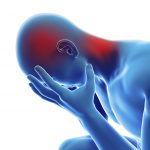 Claiming to have a migraine is one of the most popular excuses for "pulling a sickie" from work. A recent YouGov poll of 2,105 people found 15% of workers who admitted to making up illness to get a day off work used migraine as their excuse.
The fact that people fake migraines puts real sufferers in a difficult position. Some employees say they fear they won't be believed if they phone in sick with a migraine. Migraine Awareness Week statistics show that 1 in 7 people are affected by migraine. Migraine is the 6th highest cause worldwide of years lost due to disability.
In the UK there are more people who suffer from migraine than with diabetes, epilepsy and asthma combined. Over 6 million people suffer with a resulting loss of over 25 million working days. An estimated cost to the economy of £2.25 billion each year. Migraine and chronic headache (49%) is the second most commonly reported cause of short term absence.
Most people will suffer from headaches at some time during their lives. This can usually be resolved with simple painkillers, a short rest or something to eat. A migraine can be much more debilitating.
The Effects on Migraine Sufferers
It affects the whole body. Symptoms can include visual disturbances such as  flashing lights, zigzag patterns or blind spots in the vision. There could be an intense throbbing headache, often on one side of the head only. The sufferer can experience nausea, vomiting and increased sensitivity to light, noise and strong smells. Some people can also experience other neurological symptoms such as difficulty in movement or speaking. They can feel pins and needles or numbness of the limbs on the affected side of the body. A migraine attack can last for anything from 4 to 72 hours.
There is no reliable test for migraine, such as an X-ray or blood test. During an attack some people will appear deathly pale or look almost grey in the face with dark circles under their eyes. Their concentration may deteriorate and they may have difficulty in focusing. They could be less able to speak clearly and concisely as usual. A sufferer may move more slowly and deliberately in order to overcome co-ordination problems. However, unless you know a person well or observe them closely, these changes may not be so noticeable. Obviously, some people are more severely affected than others. some migraine sufferers are very good at managing their condition and disguising it from their employers and colleagues.
Although, over twice as many women as men suffer from migraine. Possibly because of the involvement of hormonal factors, around 8% of the male population experience migraine.
Act Now To Migraine
Don't just wait for Migraine Awareness Week. If you employ someone who suffers from migraines, talk to them. Find out if there are triggers that your employee can identify. Ask if there is anything you can help with at work if an attack starts. Obviously, if the migraine attacks begin to affect the employee's capability to work you may need a more difficult conversation about their ability to fulfil their duties and responsibilities. If that happens call us on 01706 565332 before you take action that you may regret later.
Metis HR is a professional HR Consultancy based in the North West of England supporting clients across the country. We specialise in providing outsourced HR services to small and medium-sized businesses. Call us now on 01706 565332 or email us to discuss how we may help you.