Why won't employees take responsibility for their actions is a question that many employers ask themselves. When you want someone to take responsibility you need to tell them, make sure that the conditions are right and monitor their outputs. But sometimes it's not obvious that people are avoiding their responsibilities.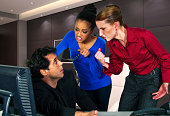 The signs to look for are
Lacking interest in their work, and in the well-being of their team colleagues.
Blaming others for mistakes and failures.
Making excuses regularly – they may often say "It's not my fault," or, "That's unfair."
Regularly complaining about unfair treatment by team leaders and team members – and engaging in self-pity.
Missing deadlines.
Avoiding challenging tasks and projects, and not taking risks.
Avoiding taking initiative, and being dependent on others for work, advice, and instructions.
Lacking trust in team members and leaders.
What can you do to change the situation?
Start by talking to the person. Find out if there's anything contributing to the situation. Are they work based issues that you can resolve? Or is stuff happening in their personal life that is affecting work?
Do they lack skills or experience? It's not uncommon when people leave an organisation to put their work responsibilities onto others. If you don't make sure these employees have got the skills to take on those new responsibilities it shouldn't be too big a surprise when they're not taking responsibility.
Have they got the equipment? Do they know how to access the systems that they need to do their job? Does that equipment work?
Have you told them what their responsibilities are? What you expect of them in their role? If you think that you have, have you asked the employee to tell you what their responsibilities are? It's easy to think you've told someone how to do something but if you don't check that you've communicated clearly then it's probably your fault they're not taking responsibility.
Do they understand why they are doing something the way that they are being asked to do it? If employees don't believe that your approach is right or the best, they're less likely to take responsibility for their tasks. But if you operate on a "need to know" basis, telling employee only the bare minimum you're not going to get buy-in. Tell people why you are asking them to do something in the way that you want them to do it.
Look at yourself. What do you do your employees do things incorrectly? If you tell someone they're responsible for something then leave them to it, they're likely to be fearful about the consequences of making mistakes. Because of this, make sure they can access someone who has time to listen to their concerns, time to mentor them, time to provide feedback on their progress
Employees still not taking responsibility?
Sometimes you'll do all that and still employees won't take responsibility because they're just not interested in the work.
Maybe you have a square peg in a round hole? It might be worth a conversation with the employee about what they want to do, what do they want to achieve? Recruiting and training people is expensive. A conversation may just preserve your investment. But, we need to recognise that we can't always provide work that thrills and excites people.
Are you micro-managing people? Look to yourself first when people are not responding in the way that you would expect. If you're micromanaging people, hovering over their shoulder, jumping in before they've had chance to try something you're going to stifle their confidence to take responsibility. Work on yourself, develop the confidence to give people freedom to do their jobs, just be ready to provide support and direction.
Have you got someone who has a tendency towards self-serving bias? This is a term psychologists use to describe those people who will take credit for themselves when things are going well but the minute they go wrongly it's someone else's fault. Blaming circumstances is one thing, blaming people, especially colleagues is another thing altogether.
Blaming others is easy, it means we don't have to take responsibility for what happens and the work that getting things right involves. More deep seated issues can mean that blaming others means that the employee doesn't make themselves vulnerable. Because the employee doesn't have to accept there was a situation where they acted in a way that they weren't proud of means that they retain control, they can re-write history and the future.
Metis HR can help you answer the question why won't employees take responsibility for their actions. We'll help you handle the early stages of these conduct and under-performance issues. We'll help build your confidence in dealing with these employees.
Call us now on 01706 565332 for a no obligation, free to you, conversation.
You might find our blog on managing difficult employees of use to you too.
Metis HR is a professional HR Consultancy based in the North West of England supporting clients across the country. We specialise in providing outsourced HR services to small and medium-sized businesses.